How to Jump on the

"Live Streaming"

Phenomenon
That Is Taking Over

Facebook


(and the Internet) Right Now
With the upcoming Facebook changes, is your business growing or is it in serious trouble?
If you're not thinking about NEW traffic, then your business IS slowly dying!
From the Desk of:
Robert Plank & Lance Tamashiro, Double Agent Marketing LLC
Date:
Monday, 8:08 AM
"What Do Mark Zuckerberg, Chewbacca Mom, Michael Phelps,
CNN, Fox News, BuzzFeed, Dunkin Donuts, Chevrolet,
And YOU, Have in Common?"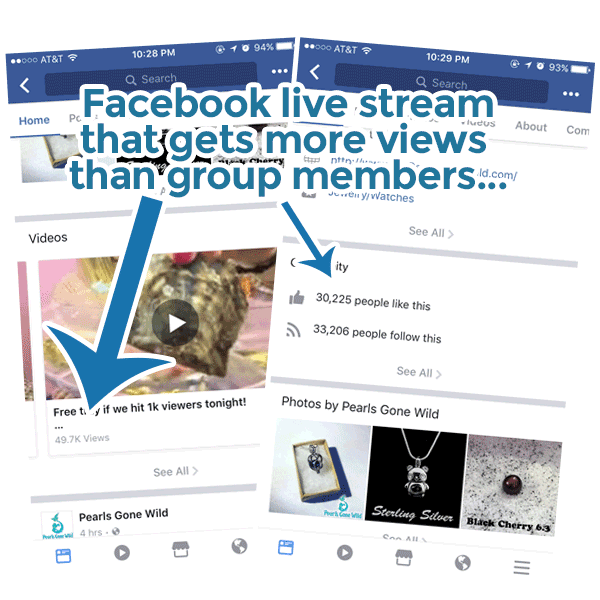 The answer: they're all using (or perhaps you're about to start using)
live video streaming with Facebook Live.
According to TechCrunch, Facebook has reported that its users upload or stream 100 million hours to the site every single day.

It would take you 11,415 YEARS to watch all of today's new Facebook videos without stopping, and there will be 100 million more hours tomorrow!

And, Facebook is starting to give YouTube a run for its money. According to a study run late last year, only 9% of Periscope (and Twitter) users have streamed live video. 16% of users have streamed on YouTube Live. But Facebook has them all beat, reporting that 17% of its users have streamed live video to get their name out there.
I'm guessing that if you've been in business for longer than a few weeks, then you've already tried (or thought about):
Facebook ads (sounds expensive)
increasing your social media presence (posting more content)
getting more likes and comments
finding more friends, fans on your page, and members of your groups
And, if you're like most people, then chances are, you've thought to yourself:
"Social media is crowded these days"
"I'm putting in a ton of work every single day"
"I can't ignore Facebook, everyone is online there"
"Is this ever going to pay off and lead to subscribers and sales?"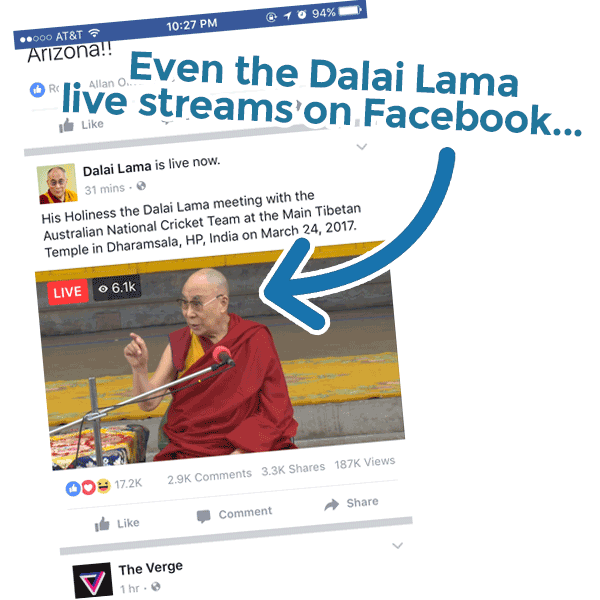 In addition, you may have heard that some marketers manage to rake in huge amounts of passive income, send email that get clicks, and fill up webinars... all with a TINY list (or perhaps no list at all) -- and it's all because of:
"Know, Like and Trust"
If there was a way you could stand out from the crowd on Facebook, be genuine and instantly likeable, AND had an easy way to "post" in front of your followers, then you'd solve your "traffic" problem.
Fact: Facebook loves video. They realize that their audience is busy and many times, using their website on a mobile app while on-the-go.
Also: What Facebook loves even more than video is... live streaming. You appear on camera, as you may have already used a FaceTime or Skype call.
In fact, they love live streaming so much, that they'll send an alert to your followers when you "go live!"
Question: How much TRAFFIC do you think you'd get if all your Facebook followers saw a "pop-up" showing that you were live now?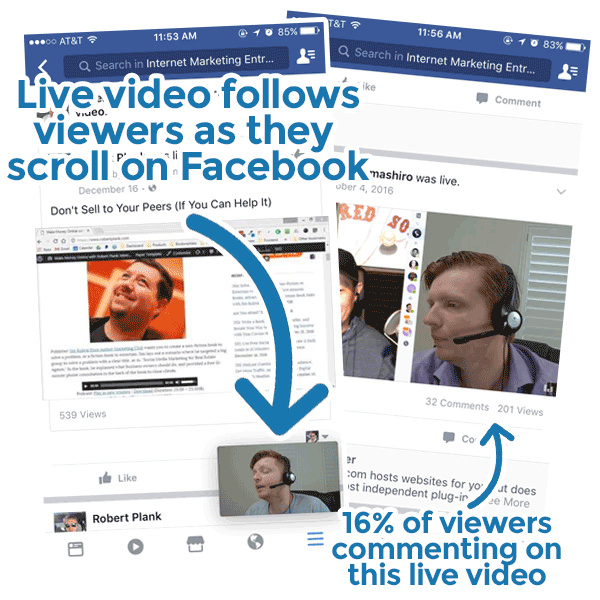 But... Here's What SUCKS
About Facebook Live Streaming!
Problem #1: Many people can only stream using a mobile phone.
Problem #2: Out of the box, there's no easy way to switch from streaming your web camera, to showing your computer screen (or showing other guests)
Problem #3: There's no easy way to record a live stream for later, OR pre-record a video and stream if it as if it's live!
Luckily... there's one simple piece of software that lets you stream to Facebook AND do everything you want -- record, playback, live stream interviews, switch from web camera to desktop, add text on the screen, play video clips, and more!
Surprise... The Best Software to
Stream to Facebook
Is Completely FREE!
I want to show you how to use this 100% FREE streaming Facebook software (runs on both PC and Mac) so that you can:
run a quick "live stream" anytime you want to connect with new prospects and reconnect with customers
live stream to your timeline or any page or group in any format you want
get tons of viewers (both live and those who catch the recording later) in a format that Facebook wants AND that users love
get that "know, like and trust" factor as people see and hear you talk
And we've put it into what I believe is the best course on Facebook live streaming ever created... and it's called:
Video Sales Tactics:
Stream Live Action, Screen Capture,
Pre-Recorded and Interviews
On the #1 Popular Website of All Time:
Facebook!
If you're reading this webpage at this very moment, then you've most likely noticed that:

People are on Facebook NOW more than ever before (1.79 billion monthly active users and 55 million status updates happen daily)
People are on their cell phones NOW more than ever before (1.66 billion mobile users and an average visit lasts 20 minutes)
People are looking for short videos to watch NOW more than ever before (100 million hours of video watched daily)
Facebook wants you to stream short and LIVE videos, and will reward you with more viewers (traffic)
And, I'm excited that you landed on this page because up until now, you were forced to awkwardly film and stream yourself from your cellphone. Double-chin shaky camera angle and all...
However, we've recently discovered a way to not only stream from any desktop computer (Mac or PC), you can also stream screen capture tutorials (show your computer screen), play back videos as if they were live, record your streams for later, live stream two-person interviews, and so much more.
Once you gain access to this training within the next few minutes, you'll see how we live stream on Facebook and we'll show you how to create any type of live stream you want. We make it dead simple, powerful, AND we show you how to do it quickly. In Video Sales Tactics, you'll discover:
Module 1:
Your First Live Stream
When you have the right tools (and instructors), streaming to Facebook is easy. It only takes a few simple steps:
First Time Only: install the free (PC or Mac) software that we show you, and configure it in just a few clicks
Step One: Decide if you want to stream to your own timeline, a fan page, or a group (whether you own it or not)
Step Two: Decide if you want to record yourself on camera, show your computer screen, play a video (or a previously recorded stream), or you and a guest
Step Three: Click the "Go Live" button and have fun!
In "Video Sales Tactics" we remove the technical headache WHILE giving you the power to do what you want with Facebook live streaming and have fun doing it...
Live stream tonight (or within the next few minutes) using only free software: your computer's built-in web camera and microphone are enough to start NOW!
Use Facebook live streaming to make sales, build likes and group members, run a launch sequence, or build trust
Run your first few live streams in "test mode" or "recording only" mode to ease yourself into live streaming, or jump right in and broadcast
Stream as often or as little as you want, onto as many pages or groups as you want, as short or as long as you want with no monthly fees
Module 2:
Screen Capture Streaming
Appearing on camera live is okay, but wouldn't you like to mix it up, appear more interesting, AND deliver real content? That's why we want to show you how to switch your live streams between a regular "camera" and showing your computer screen. Anything you show on-screen can stream out to Facebook, including images, drawings, web pages, and more... using the same FREE software!
Use Facebook streaming to demo desktop software
Use PowerPoints and websites (from your browser) and more in any Facebook live stream
Do it all without fancy equipment, without techno-geek skills, and without hiring an assistant
Module 3:
Recording & Playback
This is where live streaming really gets interesting. While everyone else streams the same old "boring" shaky videos, we'll show you how to stream ANY pre-recorded video on Facebook.
Think about what you could do with this technology...
Scenario One: record a video ahead of time, have someone edit it, and stream it as if it's live, worry free
Scenario Two: play a fancy introduction video with clips and testimonials to get people amped up and ready to watch you
Scenario Three: setup a clip (live), then play that clip and return for questions
Scenario Four: completely re-play a stream (as if it's live) even if it's months or years later
In the "recording and playback" module of Video Sales Tactics, you'll discover how to:
Playback ANY video you want across Facebook as if it's live: iPhone recordings, edited clips, intro videos, and more
Record all of your live streams for later use (YouTube, post as a "regular" Facebook video, membership site or blog content) automatically
Switch your streams between live action, desktop, and pre-recorded clips, to give you attention-grabbing and entertaining content
Module 4:
Interviews (Multi-Person Streams)
And finally, just imagine your fans, customers, clients, prospects and ENEMIES watching your live streams and wondering... "I wonder how they did that?"
In just a couple of steps (we'll show you how), it's possible for you to appear live on camera, streaming to Facebook, side by side WITH a guest (possibly from the other side of the world) appearing next to you, similar to television interviews.
Run professional side-by-side video interviews where others create social media content for you
Get into the habit of live streaming any time you want to talk with your customers, get attention or you have something to say
Put Facebook streaming into use in your business with affiliate marketing, product demonstrations, live teaching, and more
In fact, we believe in you and your ability live stream so much, that...
You Are COVERED BY Our 100%
"Love It or Shove It"
Money-Back Guarantee...
If you're unhappy with your "Video Sales Tactics" training for any reason whatsoever, including no reason at all, just find the "Support" link at the bottom of this page and send this message to us within 30 days of your purchase:
"Lance and Robert, I've bought your Video Sales Tactics training, and although it's the best training on Facebook streaming I've ever seen, it simply isn't for me. Please return my money."
It's that simple. That's how much we believe in Facebook live streaming, our "Video Sales Tactics" course, AND your ability to implement.
If you've ever thought to yourself:
"I need a way to stand out from the crowd on Facebook..." then live streaming is for you
"I don't have a slick setup or fancy audio/video equipment..." then live streaming is for you
"I'm slightly jealous seeing everybody Facebook live stream but me"... then THIS is for you!
But I must caution you... Video Sales Tactics is ONLY a perfect fit for you and the future of your business IF:
You want to jump on this "Facebook live streaming" phenomenon to build your list and land some extra sales
You want it fast and easy (not a lot of techno-speak)
You want to do it all without expensive software, confusing services, or monthly fees
Video Sales Tactics
Order Acceptance Form
Online Training: 4 Modules
Module 1: Live Action Facebook Streaming
Get started quickly
$397.00
Module 2: Desktop (Screen Capture) Facebook Streaming
Show your desktop, browser, or any software
$397.00
Module 3: Playback & Recording
Pre-record streams or play videos on your streams
$397.00
Module 4: Skype Interviews
Side-by-side two-person conversations
$397.00
Bonuses
Included Today
Challenges for Each Module: easy assignment after each session
$497.00
Video & Audio Training: available 24 hours a day
$197.00
Transcripts (coming soon): view or print anytime
$197.00
Checklists: step-by-step easy installation
$197.00
Lifetime Access: come back 24 hours a day forever
$497.00

Total Value Today:
$3,173.00
Your Price for the "Video Sales Tactics"
Facebook Live Streaming Course
(Normally $97)